Just spreading the word about this FREE upcoming online event featuring the author of the excellent True Biz: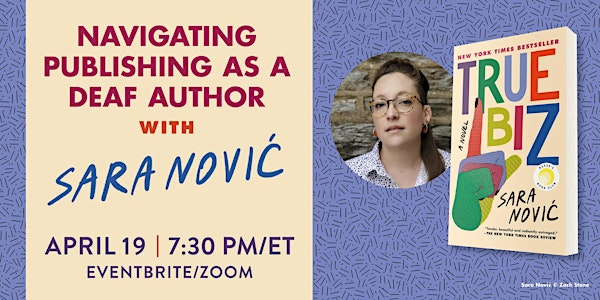 Navigating Publishing as a Deaf Author with Sara Nović
Wednesday, April 19 · 7:30 – 8:30pm EDT
Join Random House on April 19 at 7:30 p.m. ET on Zoom to celebrate the paperback release of Sara Novic's New York Times bestselling novel True Biz, as well as Deaf Awareness Month. Novic will be joined by Ross Showalter to discuss writing and publishing in a world that isn't always the most accessible. They will share their experiences, creative processes, and give us a glimpse behind the publishing industry curtain.
This event is open to all and will be presented with ASL interpretation.
This event will be recorded and the link shared with all registrants, so please register even if you cannot attend live.
Reserve your spot for this event today! When you register for your free ticket, you will also have the option to order a paperback copy of True Biz, featuring book club discussion questions, through our independent bookstore partner Women & Children First. Shipping to U.S. mailing addresses is included in the price. You'll also receive a True Biz sticker page with your book order, while supplies last so be sure to sign up now!